Daiichi Japanese Restaurant
Our master chef is featuring his signature dish for each month with our popular traditional Japanese favorite buffet at the 2nd floor including 4 private rooms.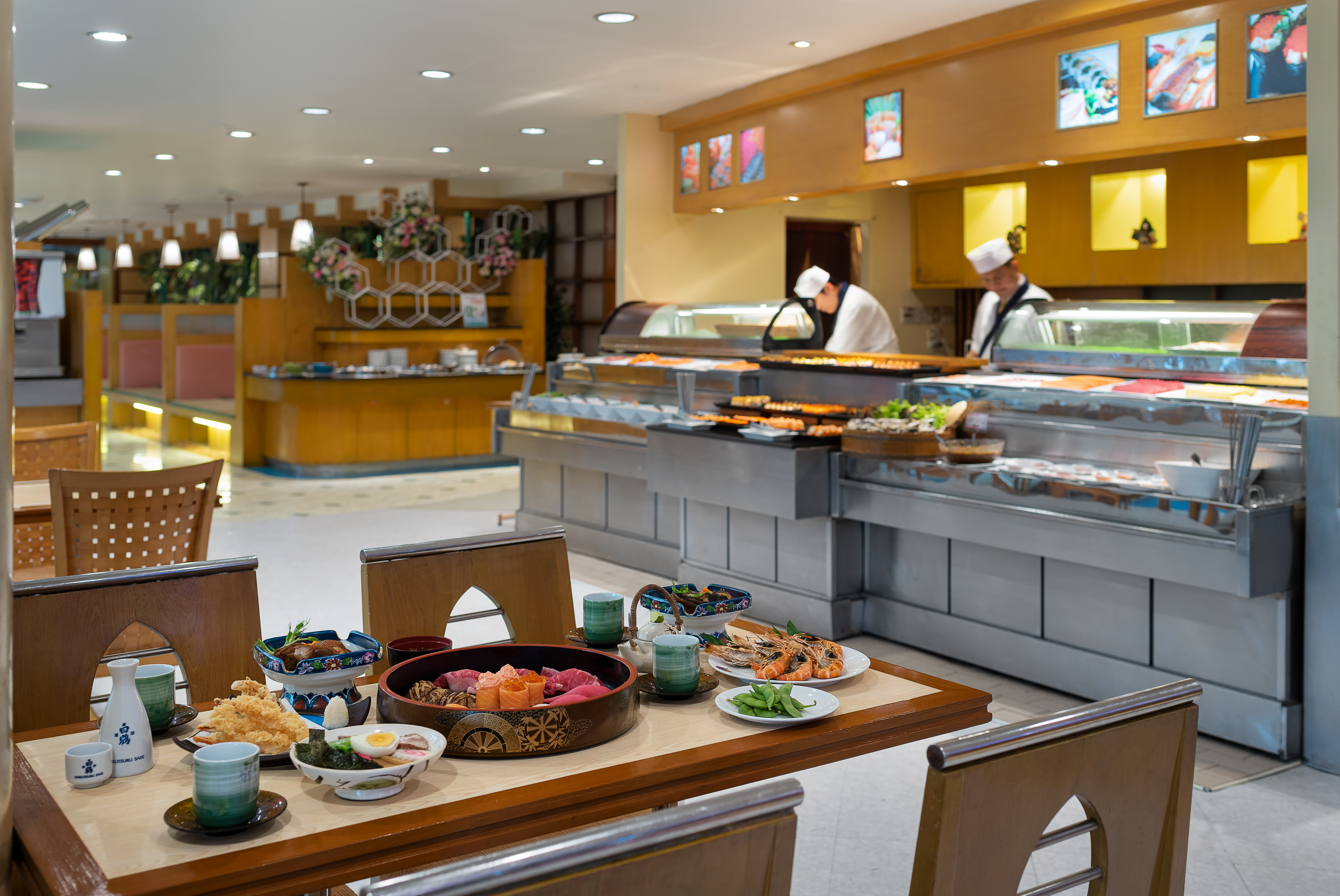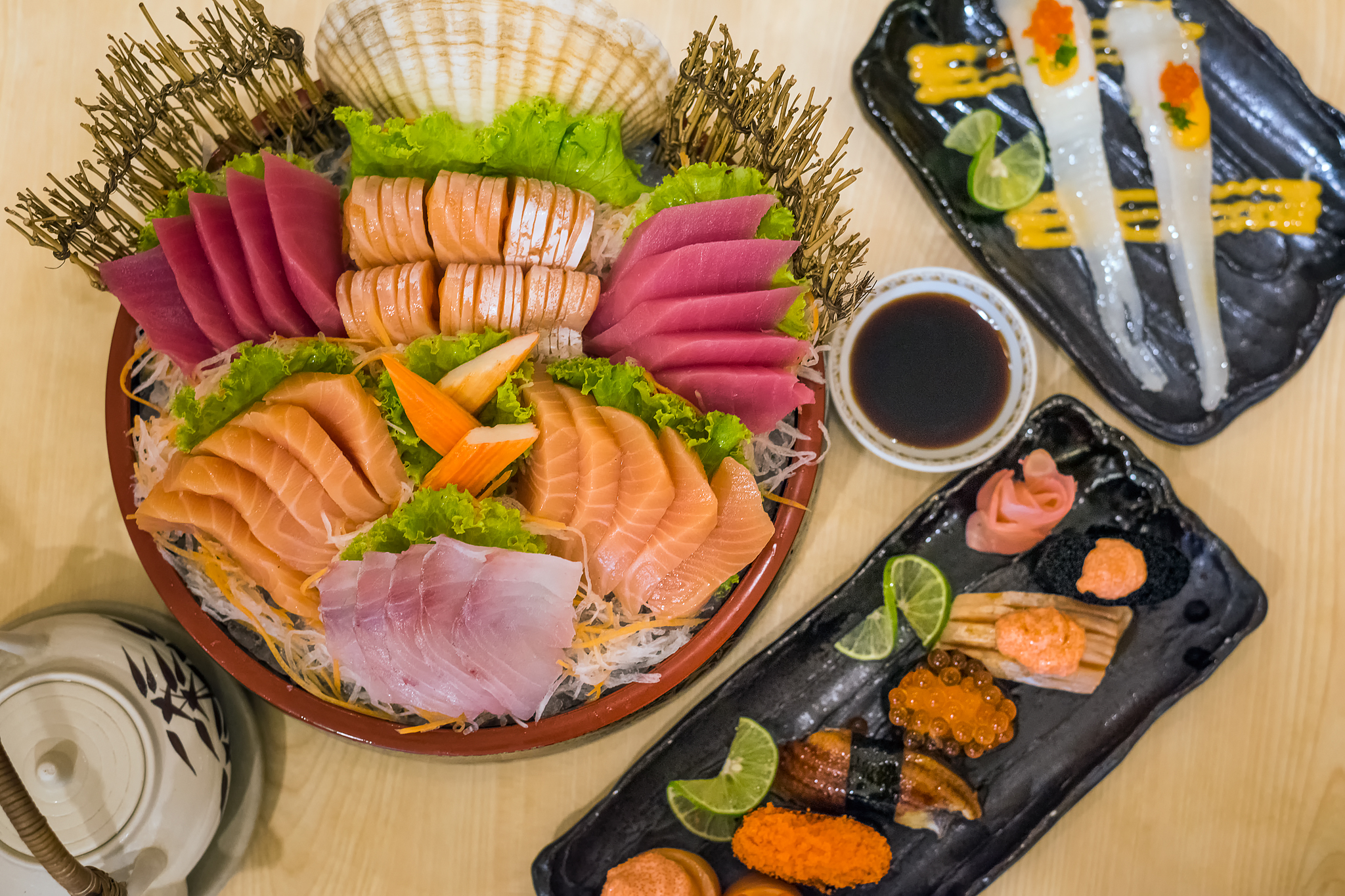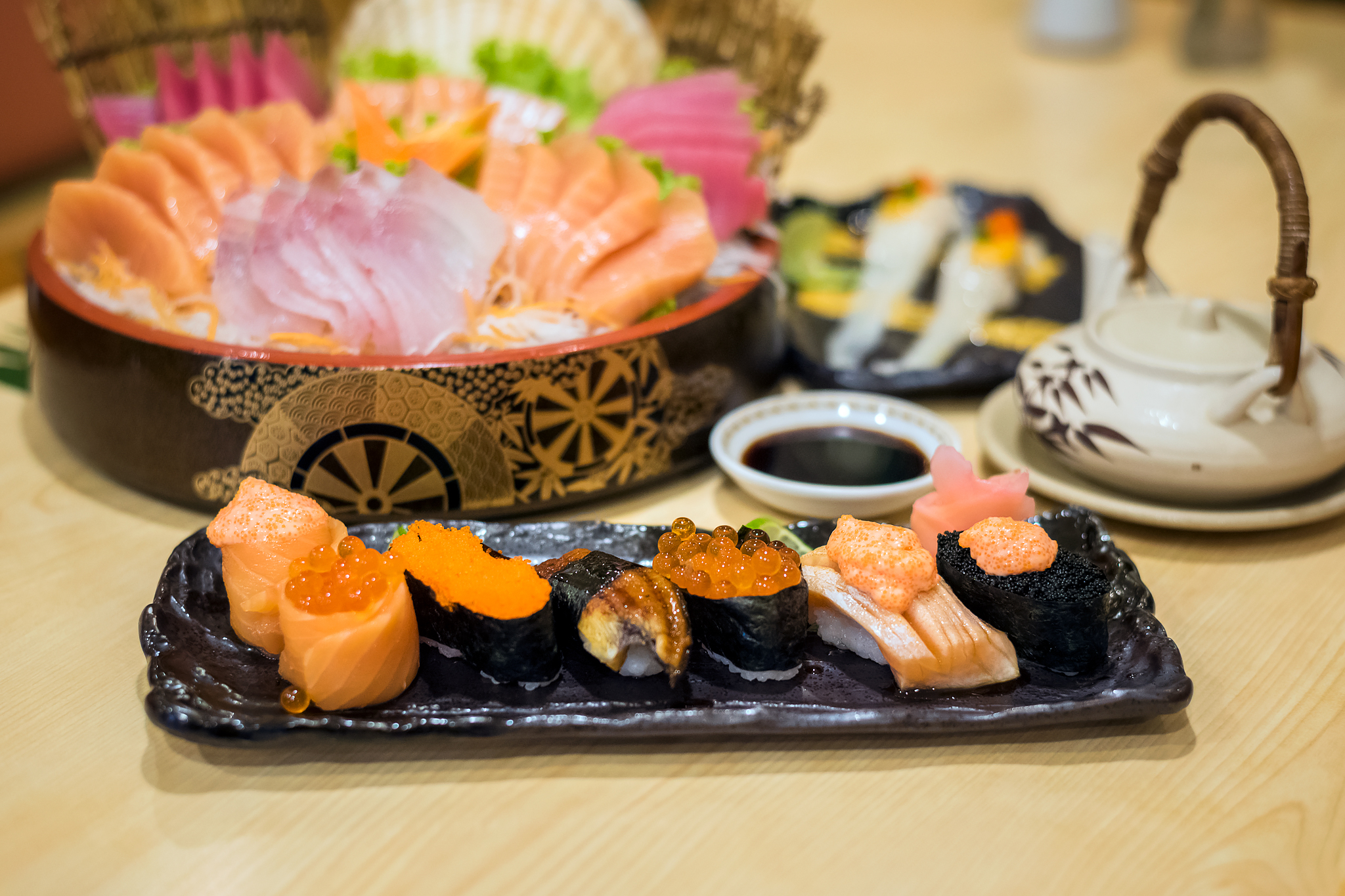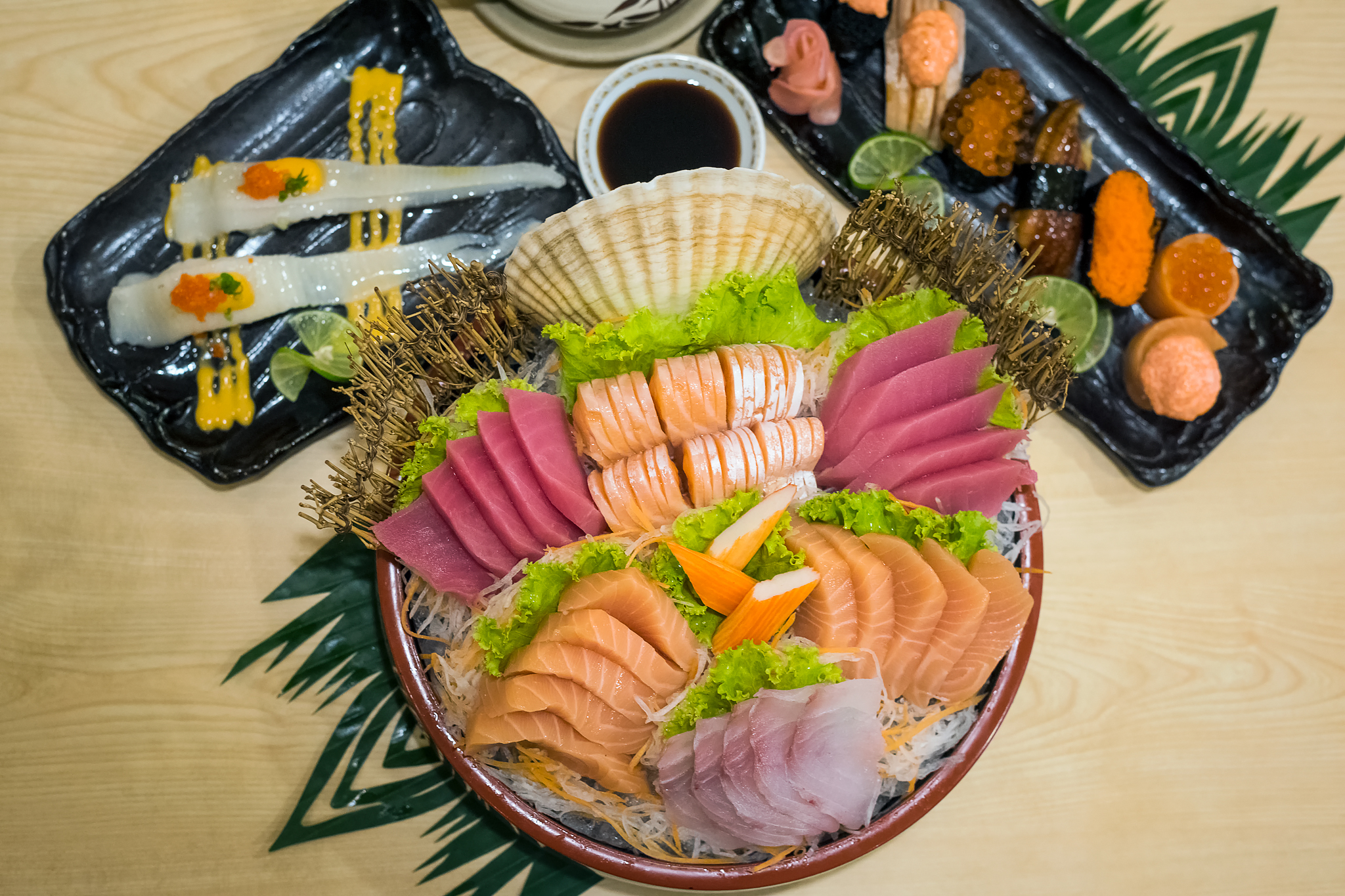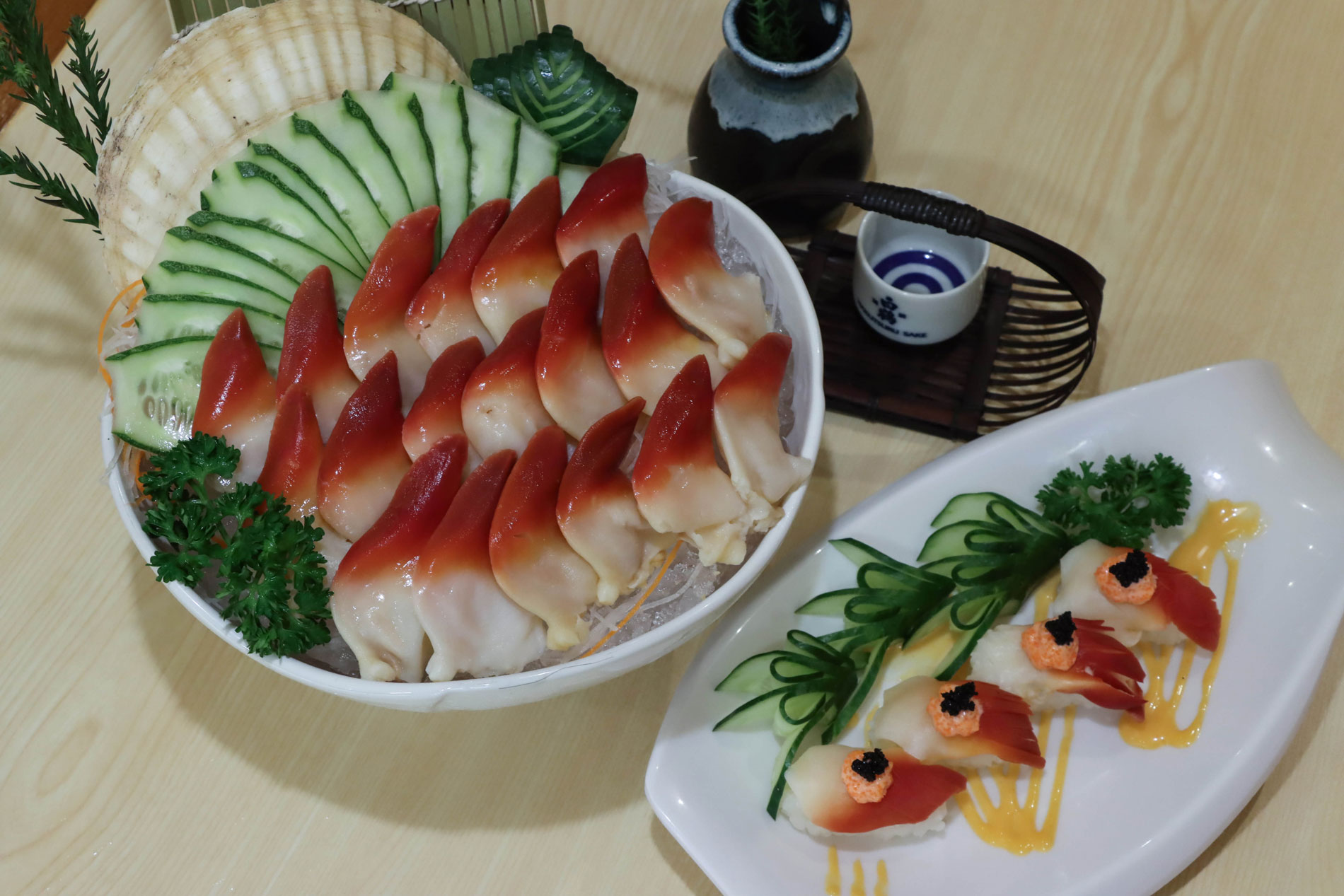 Details :
Opening hours
Daiichi Japanese Restaurant : Please note that Daiichi Japanese Restaurant remains closed until further notice. We sincerely apologies for any inconvenience caused.
Contact info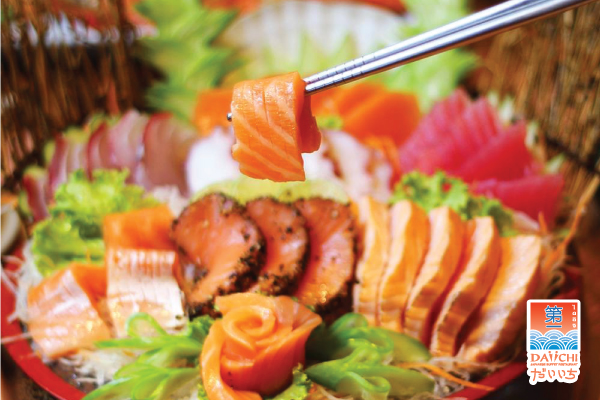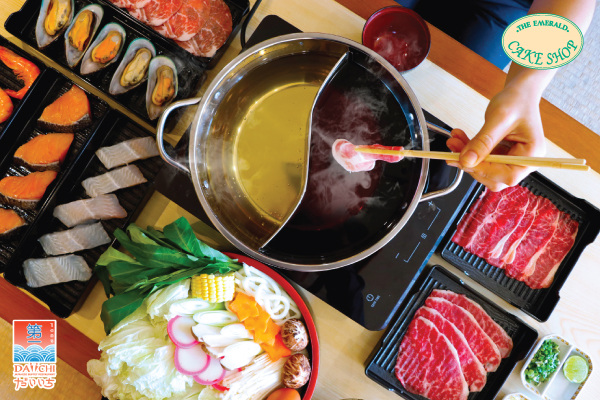 F & B Promotions :
01 - The Emerald Coffee Shop
Special promotion for dinner time!! "All you can eat Alaskan King Crab and Hamachi sashimi" at only 1,299 baht net/person (from 1,700 baht). Every Sunday-Monday-Tuesday throughout March "Come 4 Pay 3, just book in advance through the hotel and restaurant Facebook fan page"
พิเศษบุฟเฟต์นานาชาติมื้อเย็น "ทานได้ไม่อั้นกับขาปูอลาสก้าและซาชิมิปลาฮามาจิ" เพียงท่านละ 1,299 บาทถ้วน (จากปกติ 1,700 บาท) ทุกวันอาทิตย์-จันทร์-อังคาร ตลอดเดือนมีนาคมนี้ "มา 4 จ่าย 3 เพียงจองล่วงหน้าผ่านเพจโรงแรมและห้องอาหาร"
02 - Dim Sum Lunch Buffet
YOK : Dim Sum Lunch Buffet only 999 baht net/person (from 1,300 baht). "Roasted Hong Kong Pigeon with Chinese Kale " only 790 baht++
บุฟเฟต์ติ่มซำมื้อกลางวัน เพียงท่านละ 999 บาทถ้วน (ปกติ 1,300 บาท) "นกพิราบฮ่องกง อบยอดผัก" เพียงที่ละ 790 บาท++
03 - Cake Shop
บริการเบเกอรี่ ขนมอบนานาชนิด อาทิ เค้ก คุกกี้ ขนมปัง พัฟ พาย ทาร์ต และเครื่องดื่มให้เลือกมากมาย ในราคาเริ่มต้นเพียง 60 บาท พิเศษช่วง Happy Hour ลด 50% ระหว่างเวลา 19.00-20.00 น. ทุกวัน
เมนูแนะนำพิเศษ!! ชีสเค้กญี่ปุ่น เพียงชิ้นละ 90 บาท หรือ ปอนด์ละ 490 บาท
A variety of pastries such as cakes, cookies, breads, puffs, pies, tarts and a wide selection of beverages. Starting price of only 60 baht, a special 50% discount during Happy Hour between 19.00 – 20.00 hrs. every day.
Recommended menu is "Japanese Cheese Cake" only 90 baht/piece or 490 baht/pound.
04 - ข้าวแช่
เมนูคลายร้อน ด้วยข้าวสวยที่หุงโดยขัดยางข้าวออกจนหมด ผสมผสานกับน้ำลอยดอกมะลิที่ส่งกลิ่นหอมชื่นใจ เสิร์ฟพร้อมเครื่องเคียงตามแบบฉบับชาววัง ทั้งลูกกะปิทอด พริกหยวกสอดไส้ หมูฝอย ไชโป๊วผัดหวาน หอมแดงทอดสอดไส้ ปลาหวาน และ กระชาย มะม่วง แตงกวาที่ผ่านการแกะสลักอย่างวิจิตรบรรจง สวยงามตระการตา เชิญมาทานได้จนถึงสิ้นเดือนเมษายน เพียงชุดละ 359 บาท++ เท่านั้น
a traditional Thai dish composed of rice is eaten cold with jasmine scented water served with side dishes such as shrimp paste balls, stuffed bell peppers shredded pork, sweet-fried radish, deep-fried shallots stuffed with sweet fish and galangal, mangoes, delicately carved cucumbers. Please come to taste this summer season until the end of April, only 359 baht++/set.
05 - International Buffet Lunch
International Buffet Lunch : serving daily with "all you can eat" variety of tasty dishes only 659 baht (from 900 baht) and also a la carte menu.
บุฟเฟต์นานาชาติมื้อกลางวัน เปิดบริการทุกวันด้วยอาหารจานเด่นหลากหลาย "ทานได้ไม่อั้น" เพียงท่านละ 659 บาท (จากปกติ 900 บาท) หรือเมนูตามสั่งให้เลือกตามใจชอบมากมาย
06 - Stewed Pork Leg Set
"Stewed Pork Leg Set" only 399 baht++/set with steamed rice and hot Chinese steamed buns (Mantou)
เซท "ข้าวขาหมูสูตรดิเอมเมอรัลด์" เพียงชุดละ 399 บาท++ เสิร์ฟพร้อมหมั่นโถวนึ่งร้อนๆ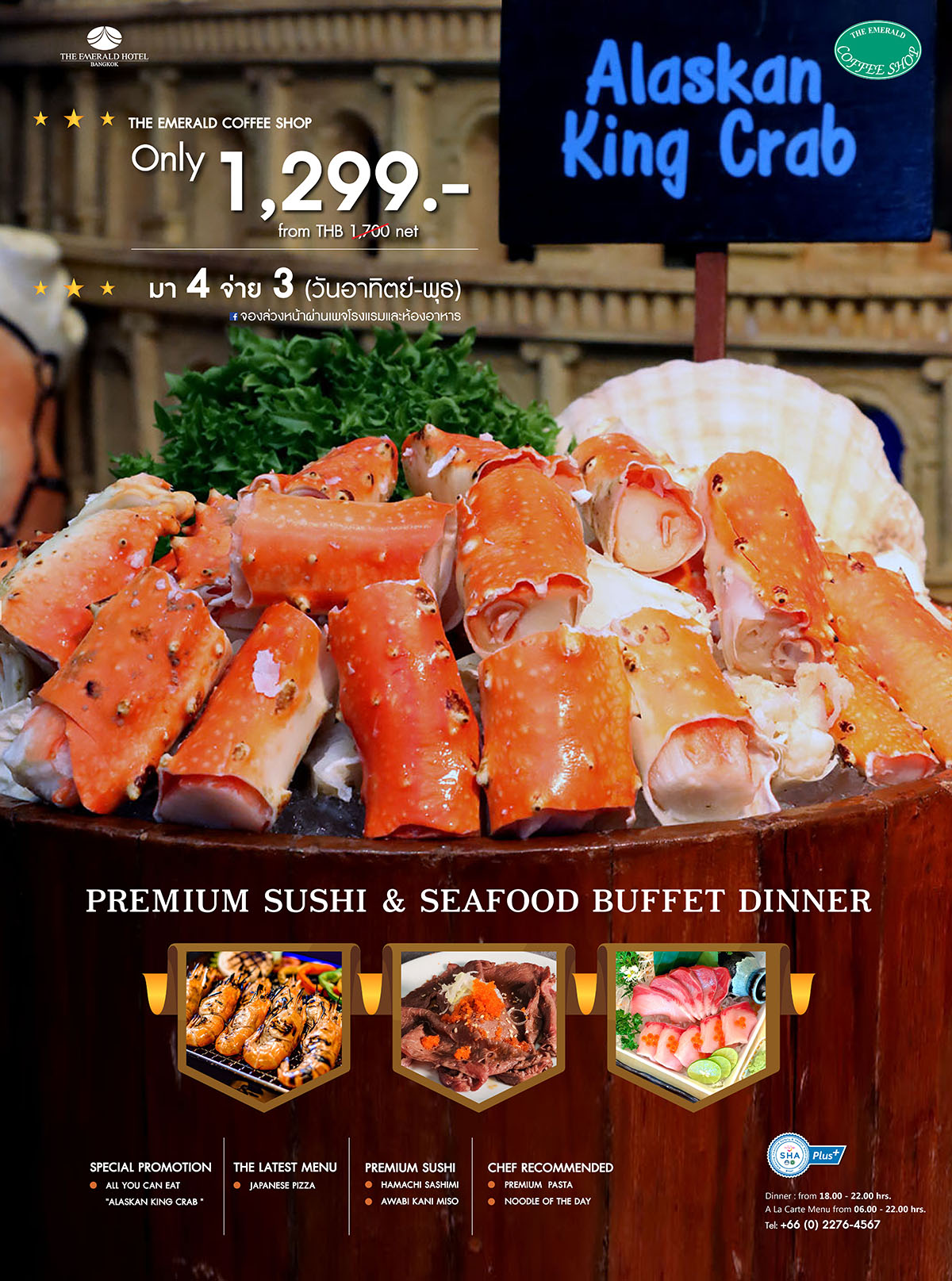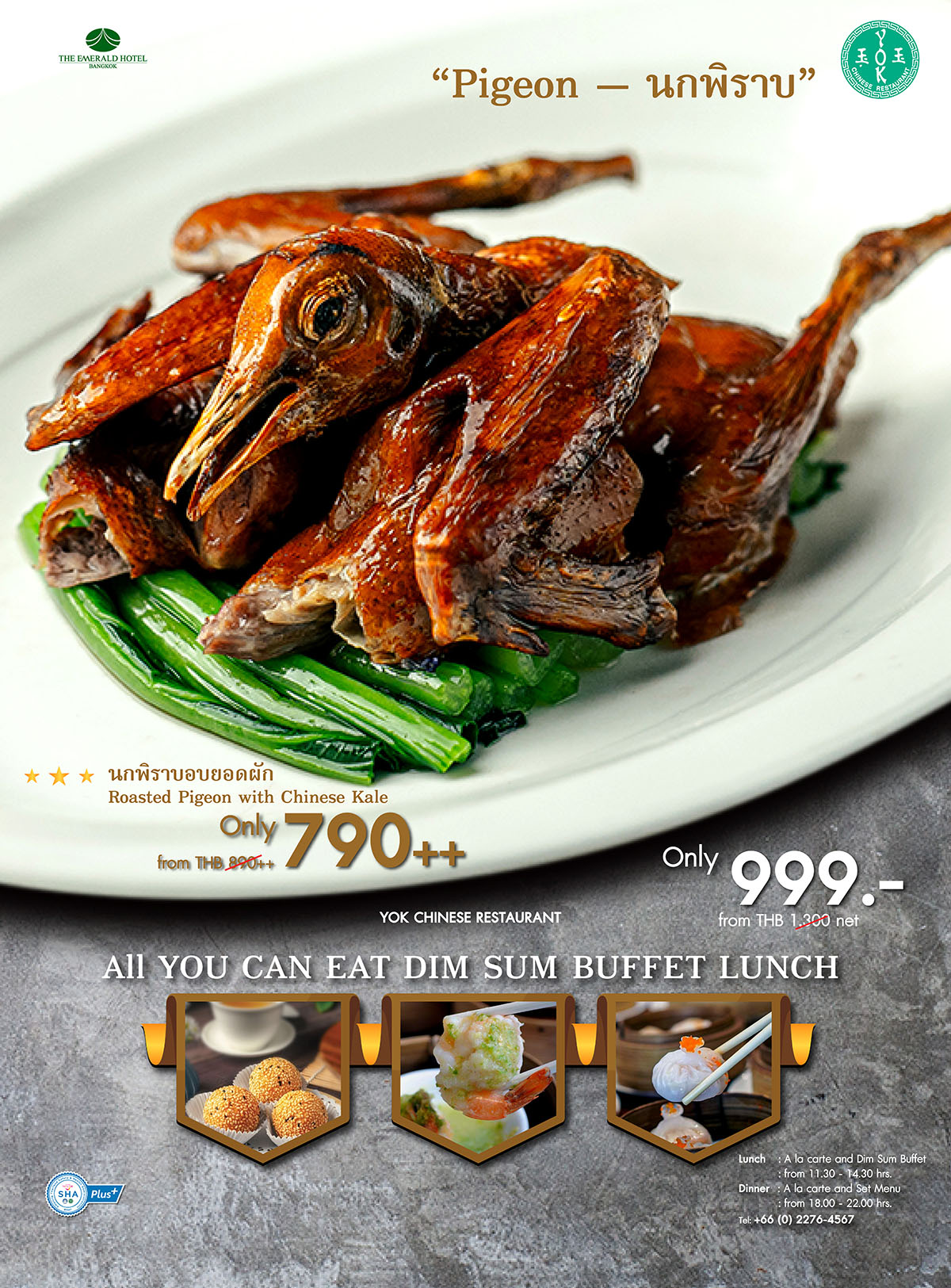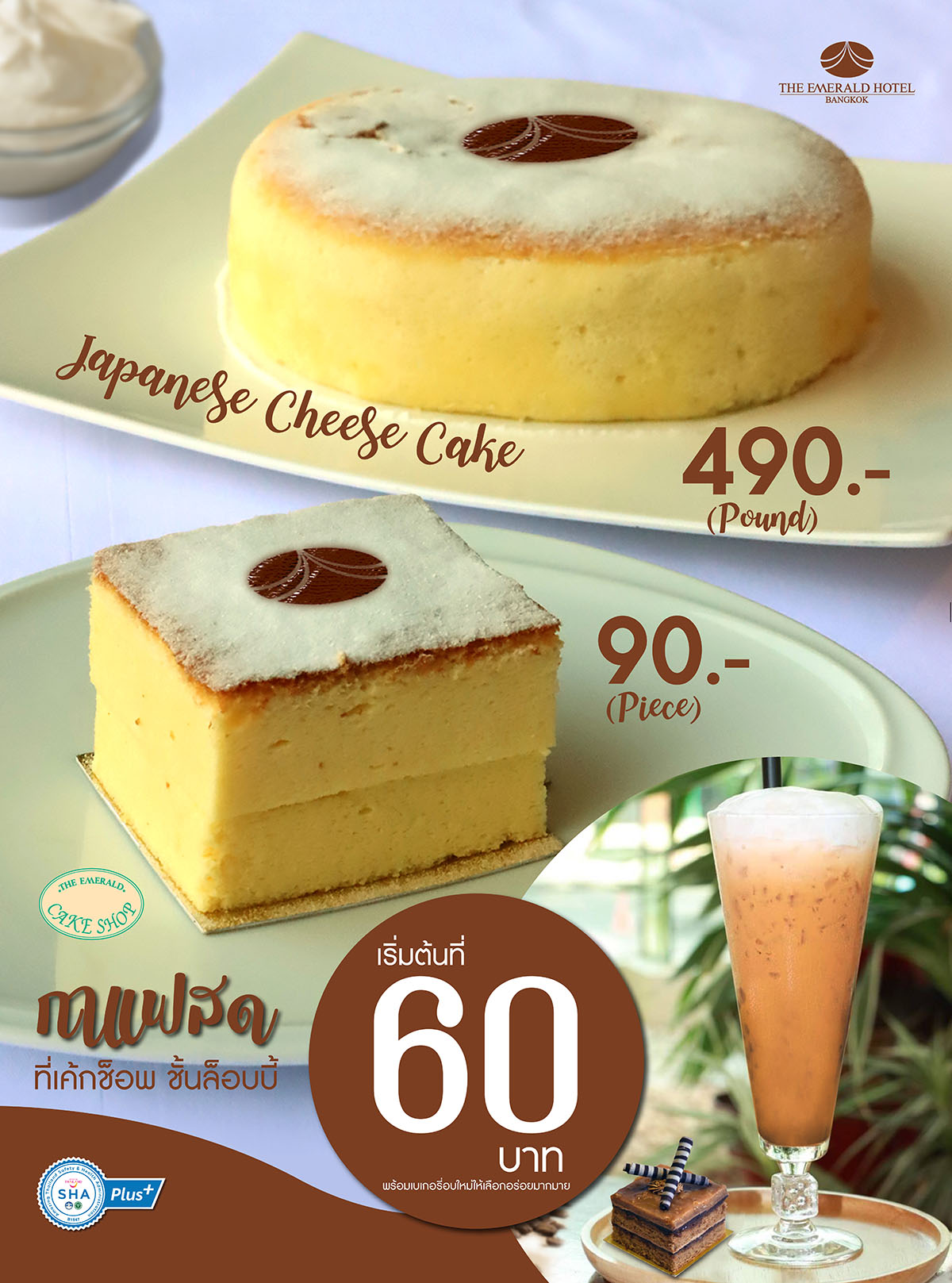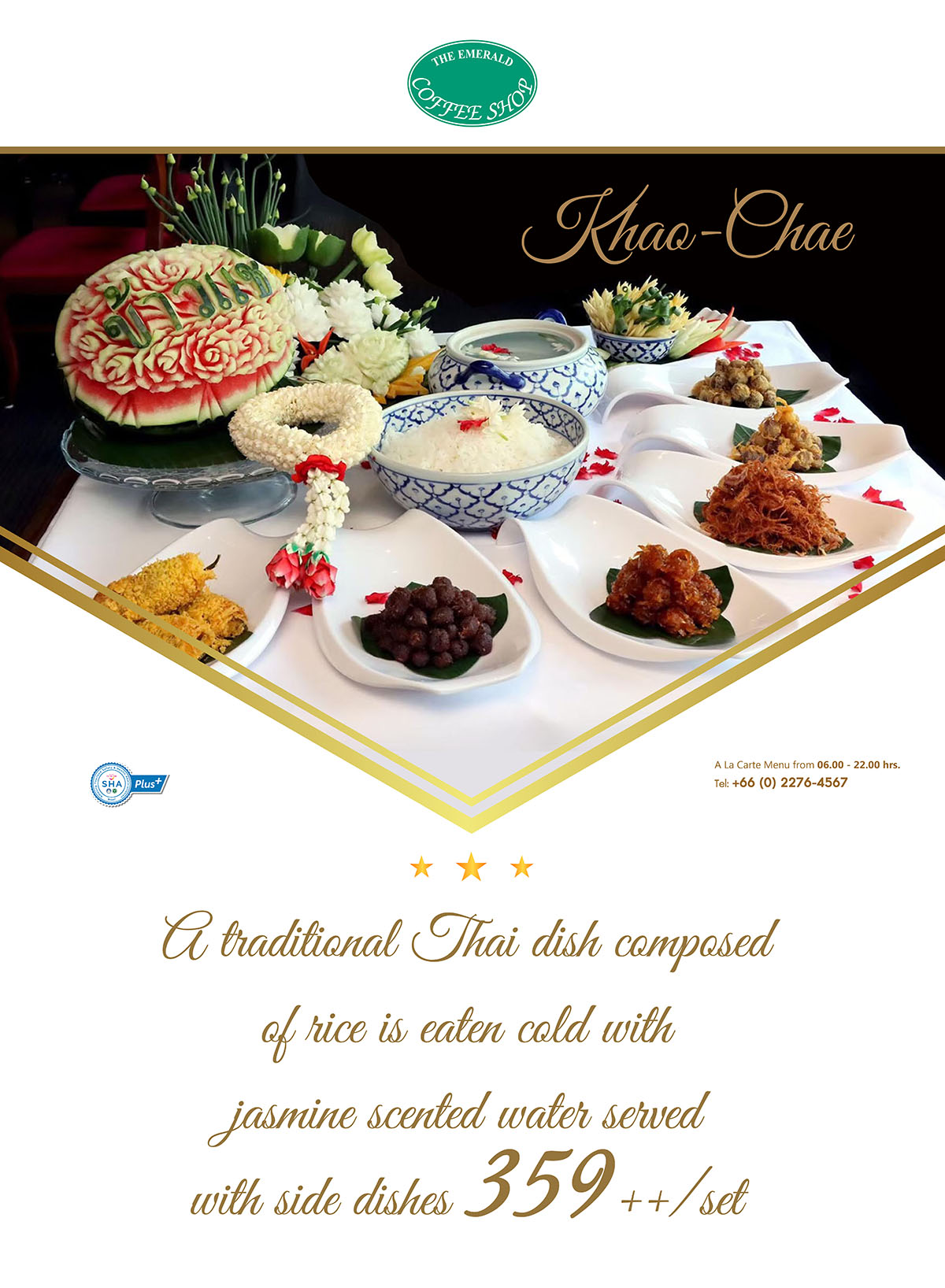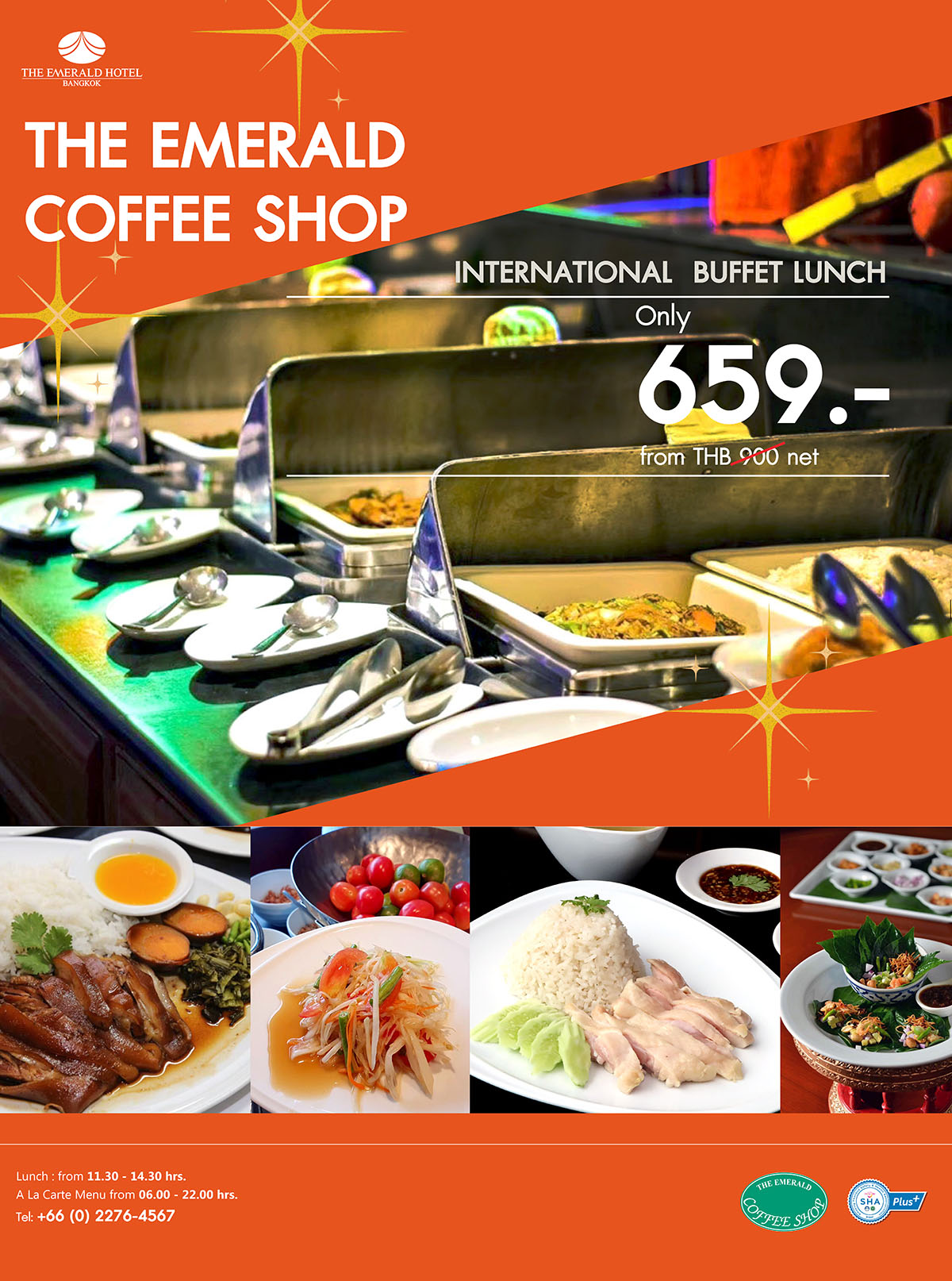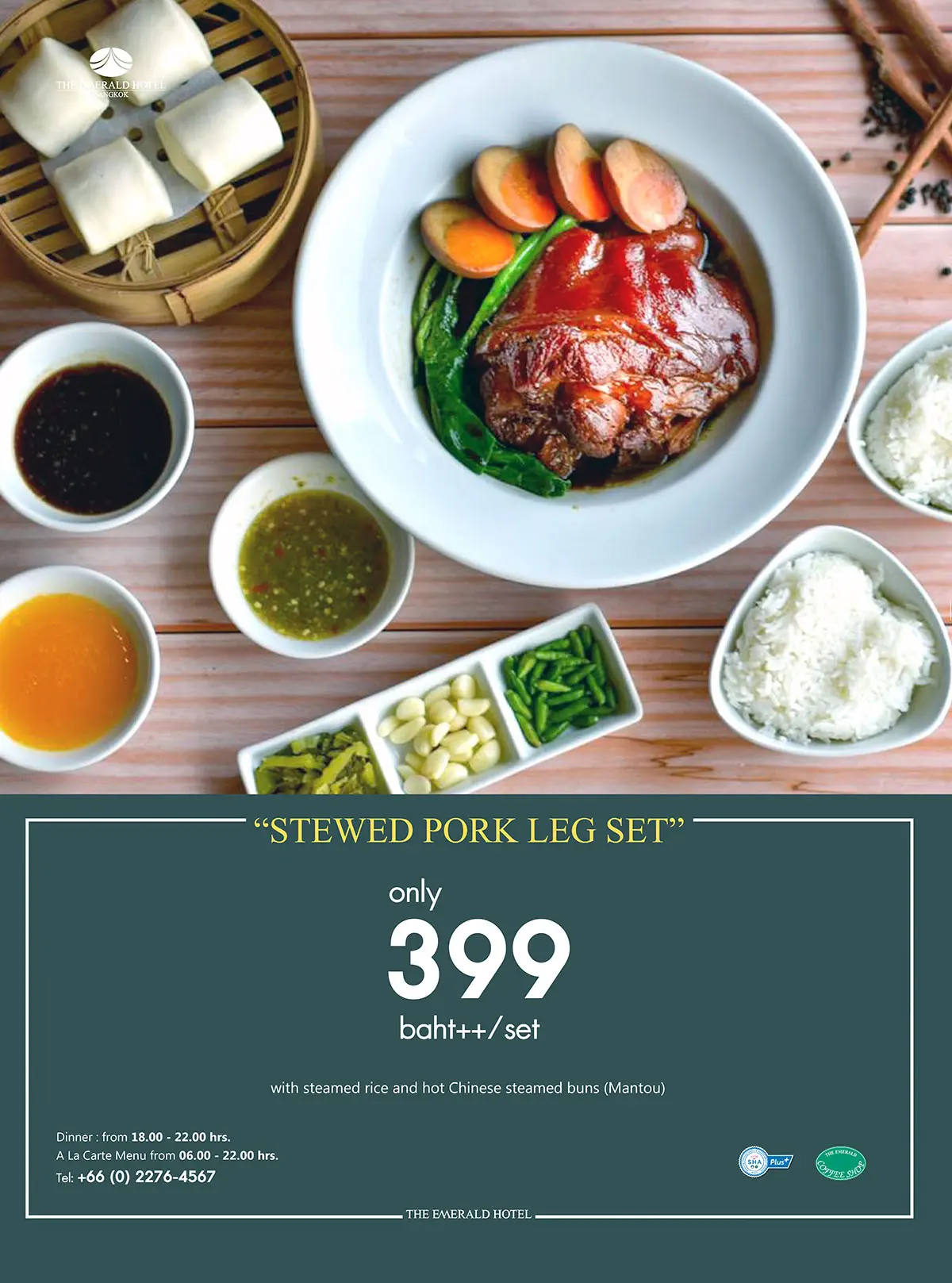 Dining Form