Yok Chinese Restaurant
For the finest Chinese cuisine "Yok Restaurant" proudly presents the homemade recipe of choose from a wide range of delectable "Dim Sum" our superb and delicious with the best ingredients, freshly made every day for lunch only and exquisite Chinese Cantonese cuisine. Open daily for your dining pleasure with 12 private rooms at the 2nd floor.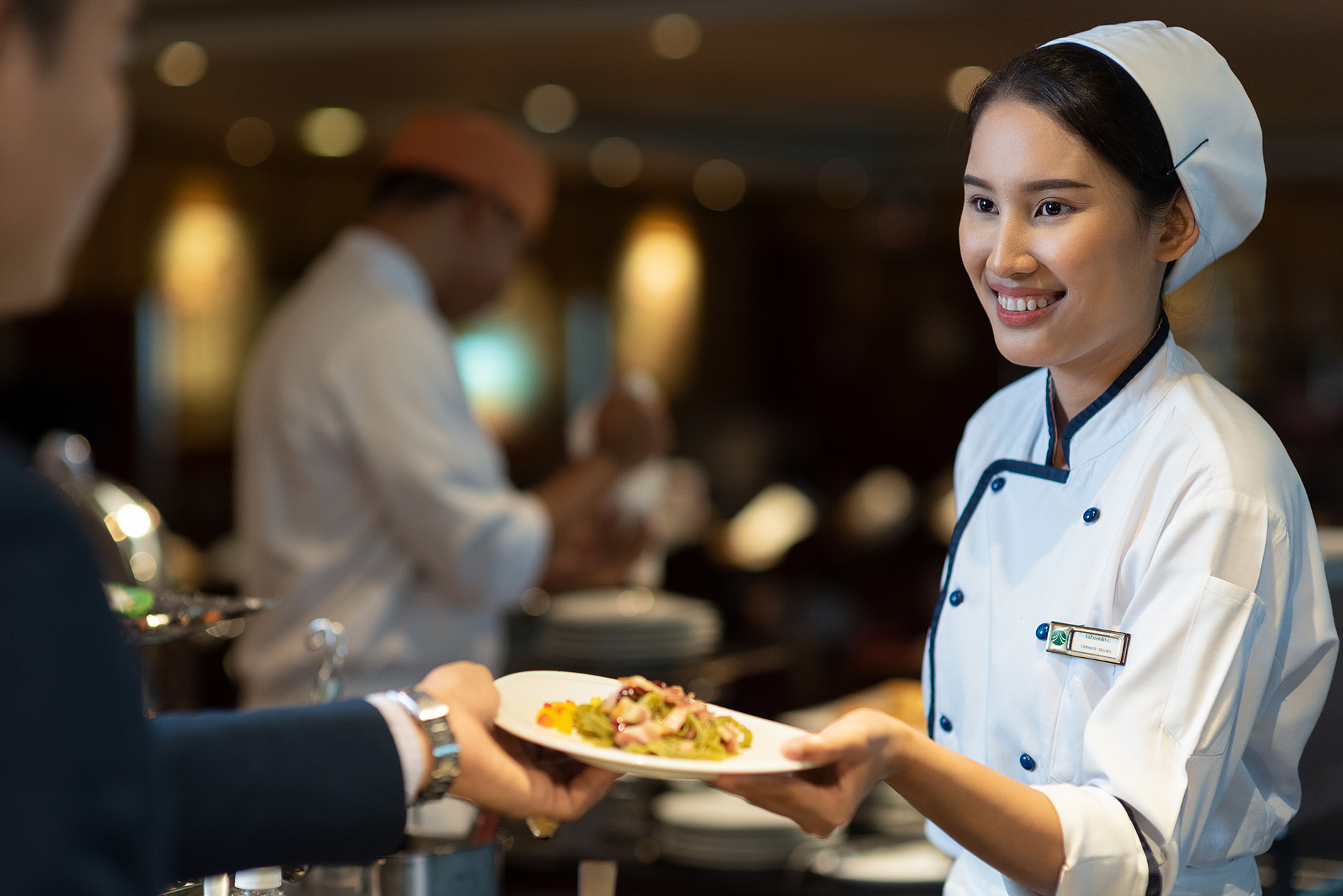 Details :
Opening hours
Lunch : 11.30 am – 2.30 pm
Dinner : 06.00 pm – 10.00 pm
Contact info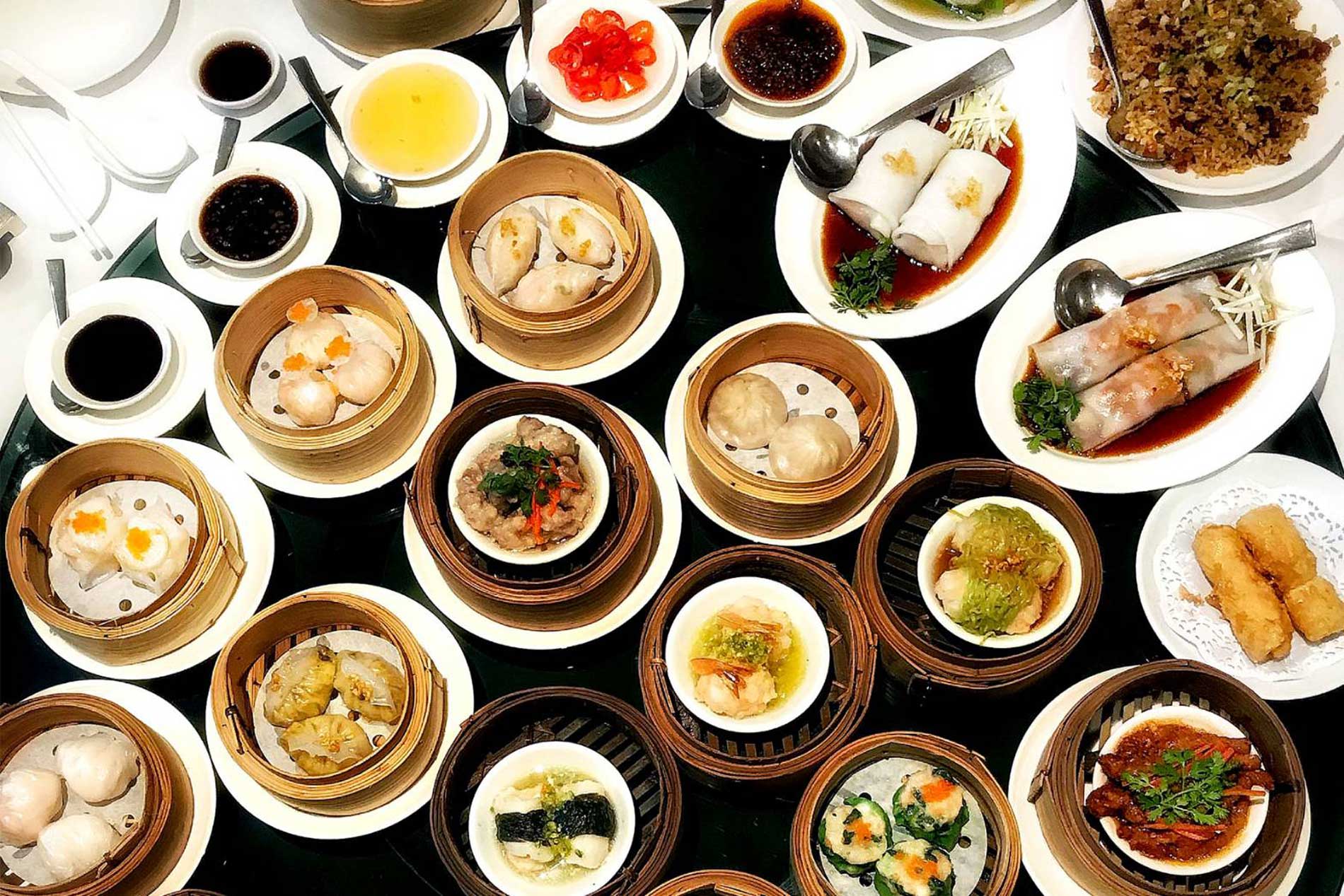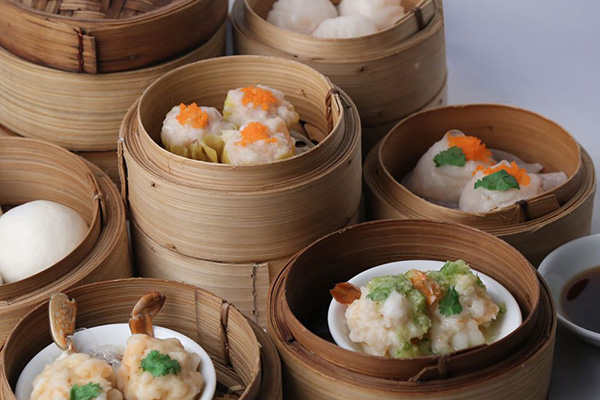 MENU HIGHLIGHTS :
Lunch : Dim Sum Buffet only 859 Baht net/person (Normal Price is 1,300 Baht net/person).
Lunch & Dinner : The Emerald Abalone Promotion only 350 Baht net and Peking Duck promotion only 999 Baht net (Normal price is 1,742 Baht net)
F & B Promotions :
01 - Dim Sum Lunch Buffet
Dim Sum Lunch Buffet only 859 baht net/person (from 1,300 baht). "Hairy Crab" only 990 baht++, and "Hong Kong Suckling Pig" only 2,800 baht (from 3,295 baht).
บุฟเฟต์ติ่มซำมื้อกลางวัน เพียงท่านละ 859 บาทถ้วน (ปกติ 1,300 บาท) "ปูขน" เพียงตัวละ 990 บาท++ และ "หมูหันฮ่องกง" เพียงตัวละ 2,800 บาท (ปกติ 3,295 บาท)
02 - Oktoberfest
Special promotion for "Oktoberfest" only dinner time!! Receive "1 Grilled Lobster with Café de Paris sauce" for free at only 999 baht net/person (from 1,400 baht) Monday-Thursday and 1,299 baht net/person (from 1,700 baht) Friday-Sunday, holiday and long weekend.
พิเศษฉลองเทศกาลอ็อกโทเบอร์เฟส รับฟรี "กุ้งล็อบสเตอร์ย่างซอสคาเฟ่ เดอ ปารีส 1 ตัว"เพียงท่านละ 999 บาทถ้วน (จากปกติ 1,400 บาท) เฉพาะวันจันทร์-พฤหัสบดี และ 1,299 บาทถ้วน (จากปกติ 1,700 บาท) สำหรับวันศุกร์-อาทิตย์ วันหยุดนักขัตฤกษ์และวันหยุดต่อเนื่อง
03 - International Buffet Lunch
International Buffet Lunch : serving daily with "all you can eat" variety of tasty dishes only 659 baht (from 900 baht) and also a la carte menu.
บุฟเฟต์นานาชาติมื้อกลางวัน เปิดบริการทุกวันด้วยอาหารจานเด่นหลากหลาย "ทานได้ไม่อั้น" เพียงท่านละ 659 บาท (จากปกติ 900 บาท) หรือเมนูตามสั่งให้เลือกตามใจชอบมากมาย
04 - Stewed Pork Leg Set
"Stewed Pork Leg Set" only 399 baht++/set with steamed rice and hot Chinese steamed buns (Mantou)
เซท "ข้าวขาหมูสูตรดิเอมเมอรัลด์" เพียงชุดละ 399 บาท++ เสิร์ฟพร้อมหมั่นโถวนึ่งร้อนๆ
05 - Australian Wine 1,199 baht/bottle
White wine : Shell Bay Semillon Sauvignon Blanc
Red wine : Shell Bay Cabernet Sauvignon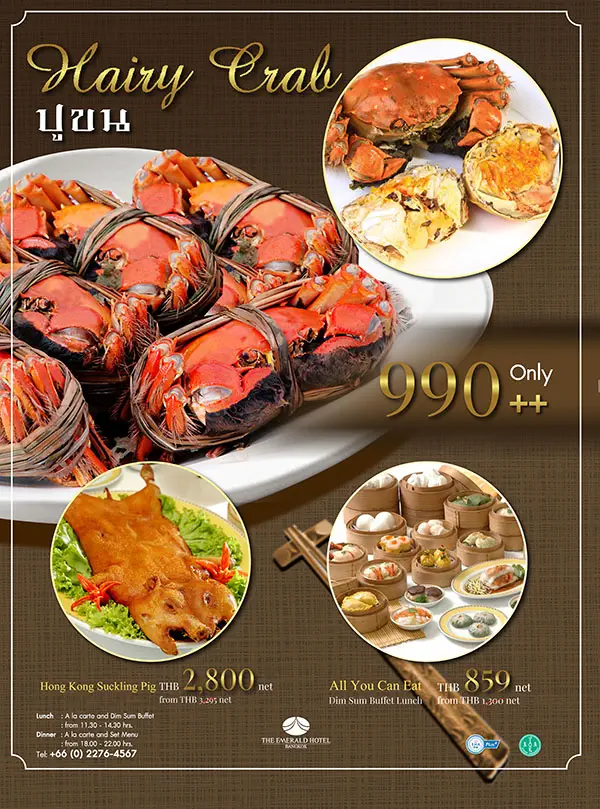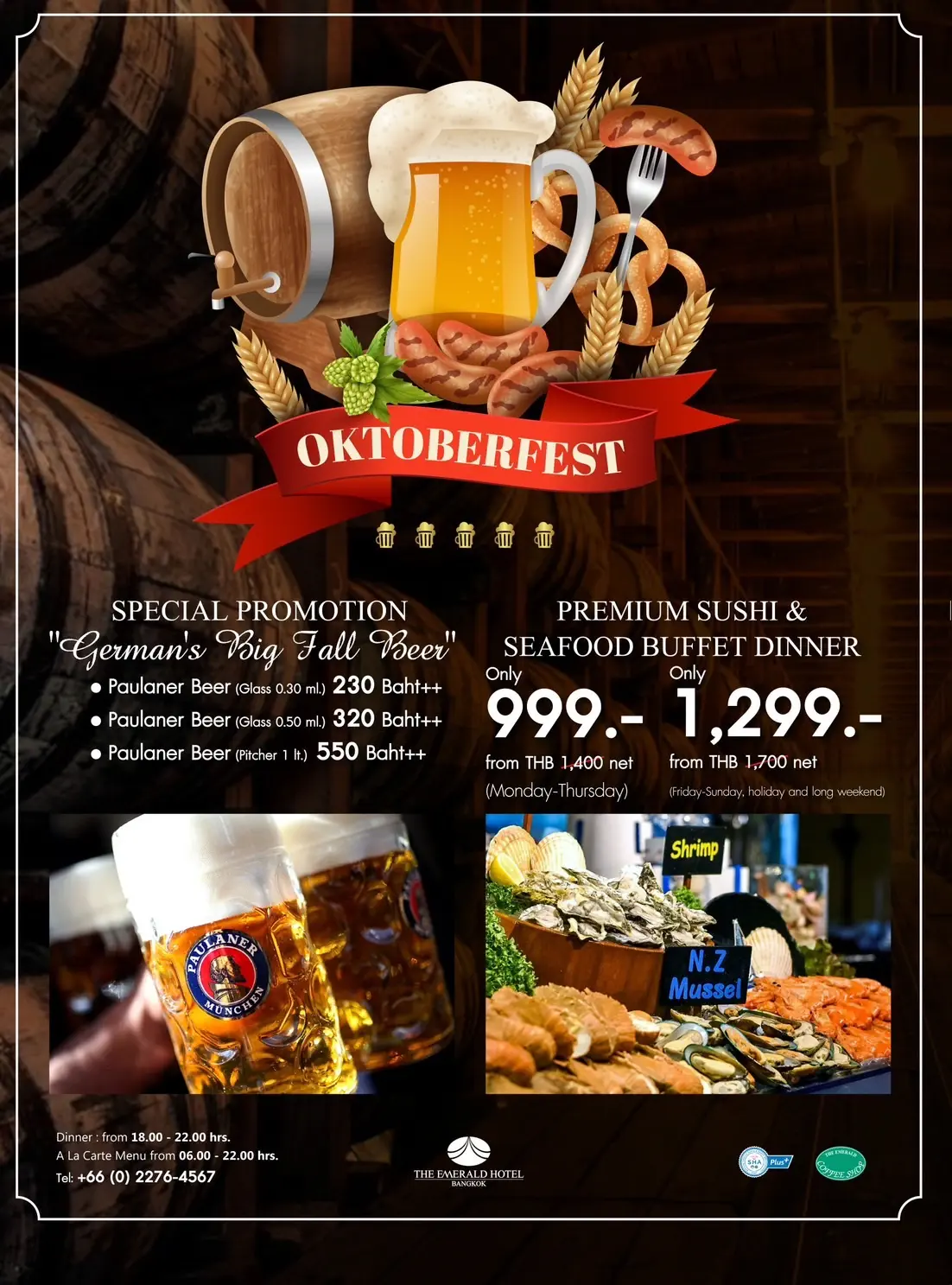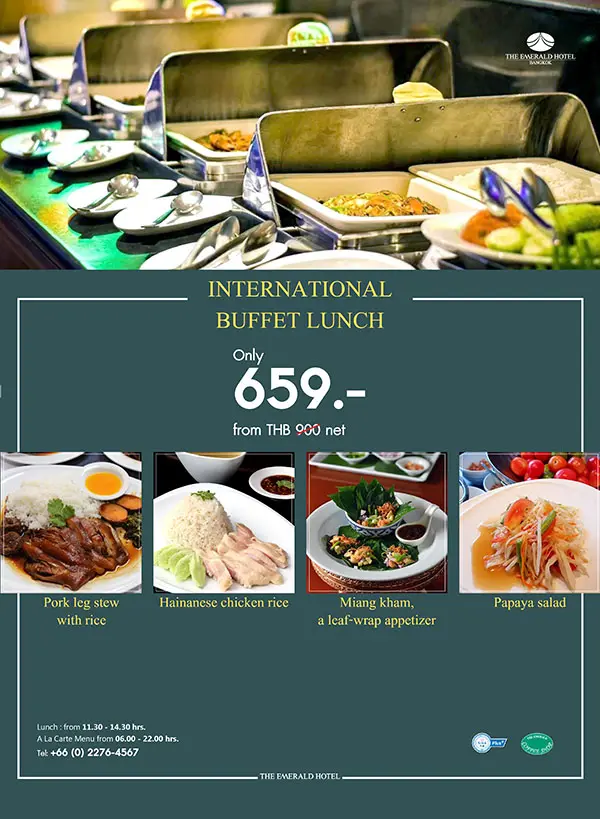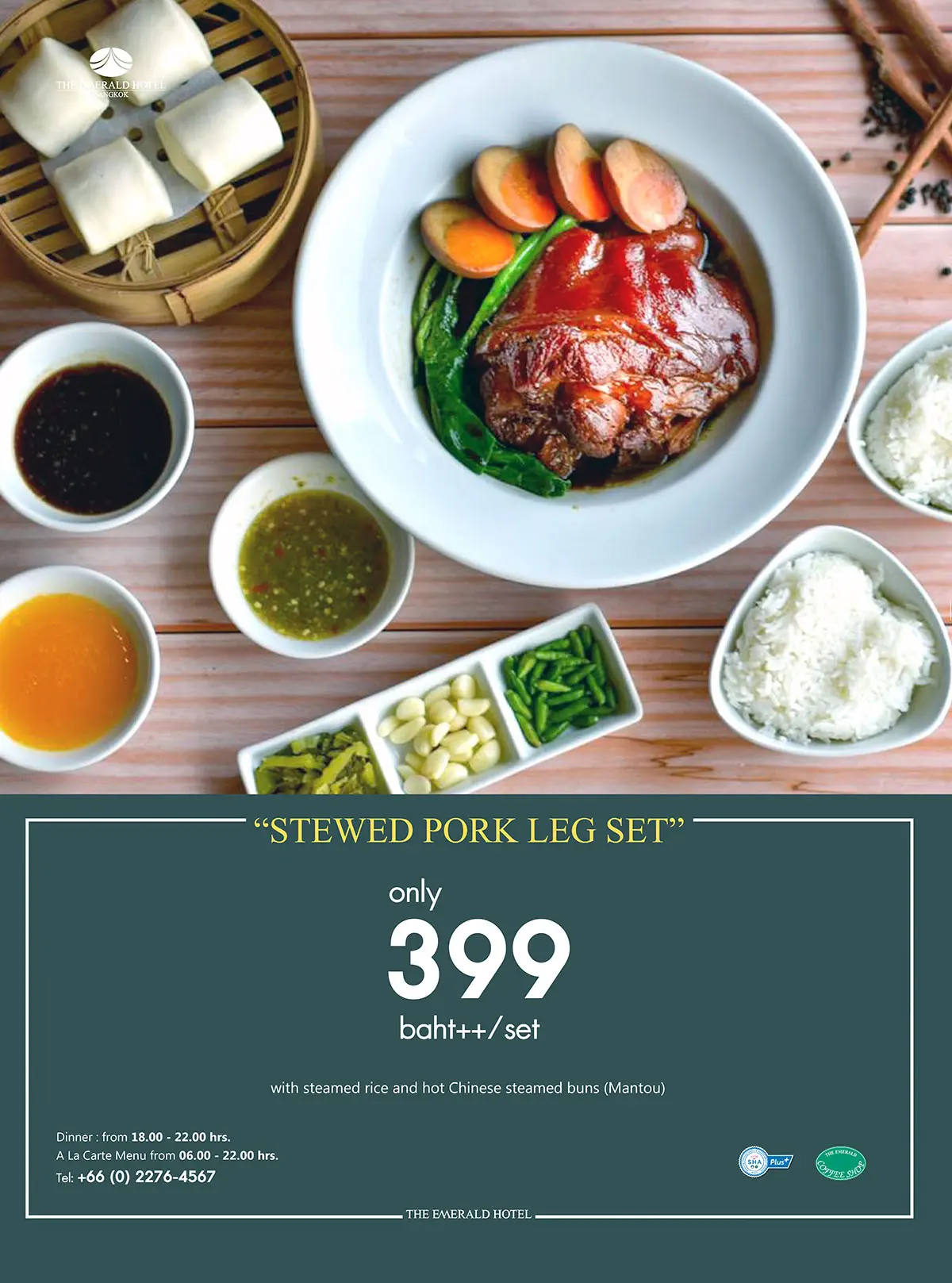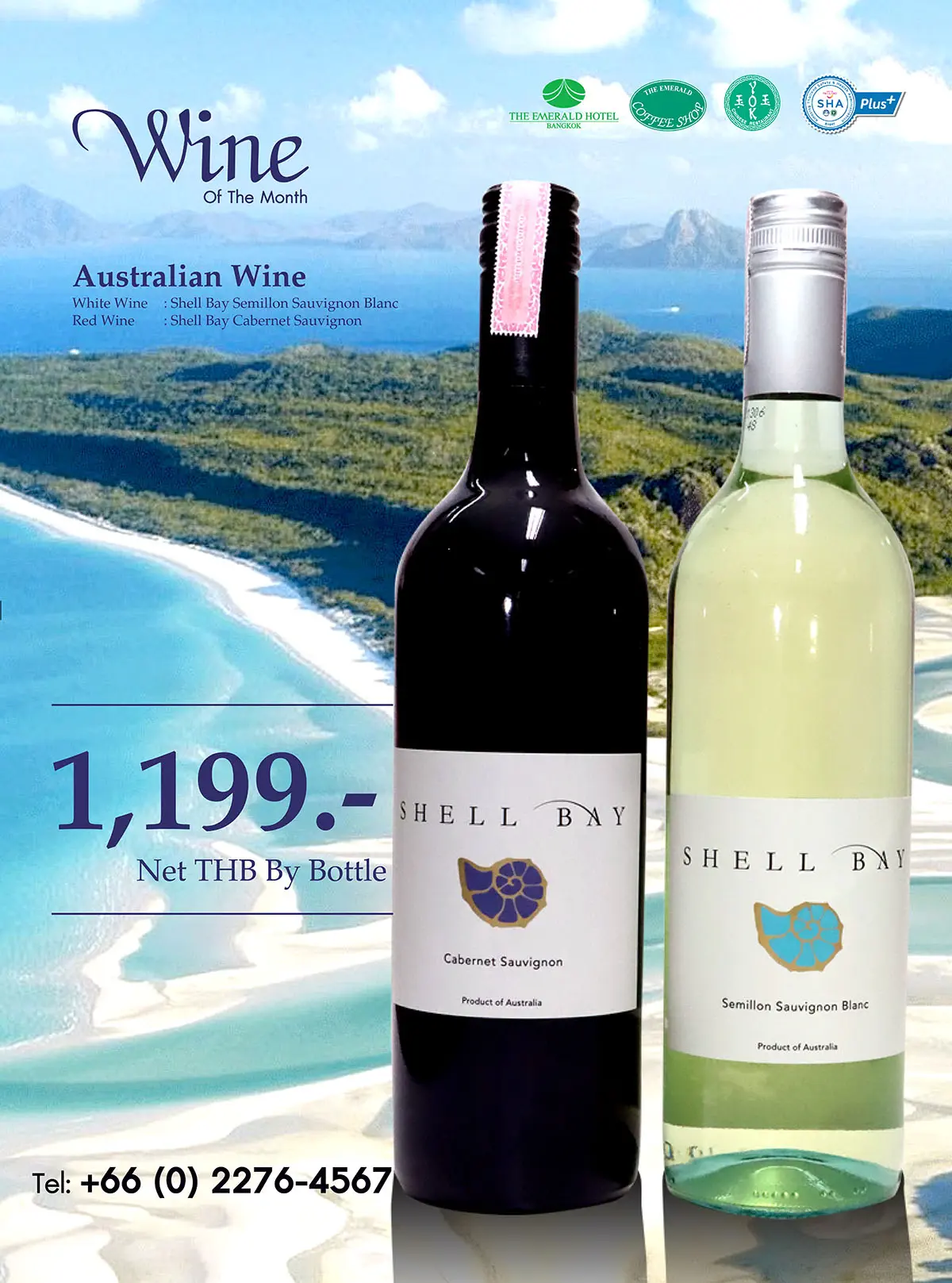 Dining Form