Yok Chinese Restaurant
For the finest Chinese cuisine "Yok Restaurant" proudly presents the homemade recipe of choose from a wide range of delectable "Dim Sum" our superb and delicious with the best ingredients, freshly made every day for lunch only and exquisite Chinese Cantonese cuisine. Open daily for your dining pleasure with 12 private rooms at the 2nd floor.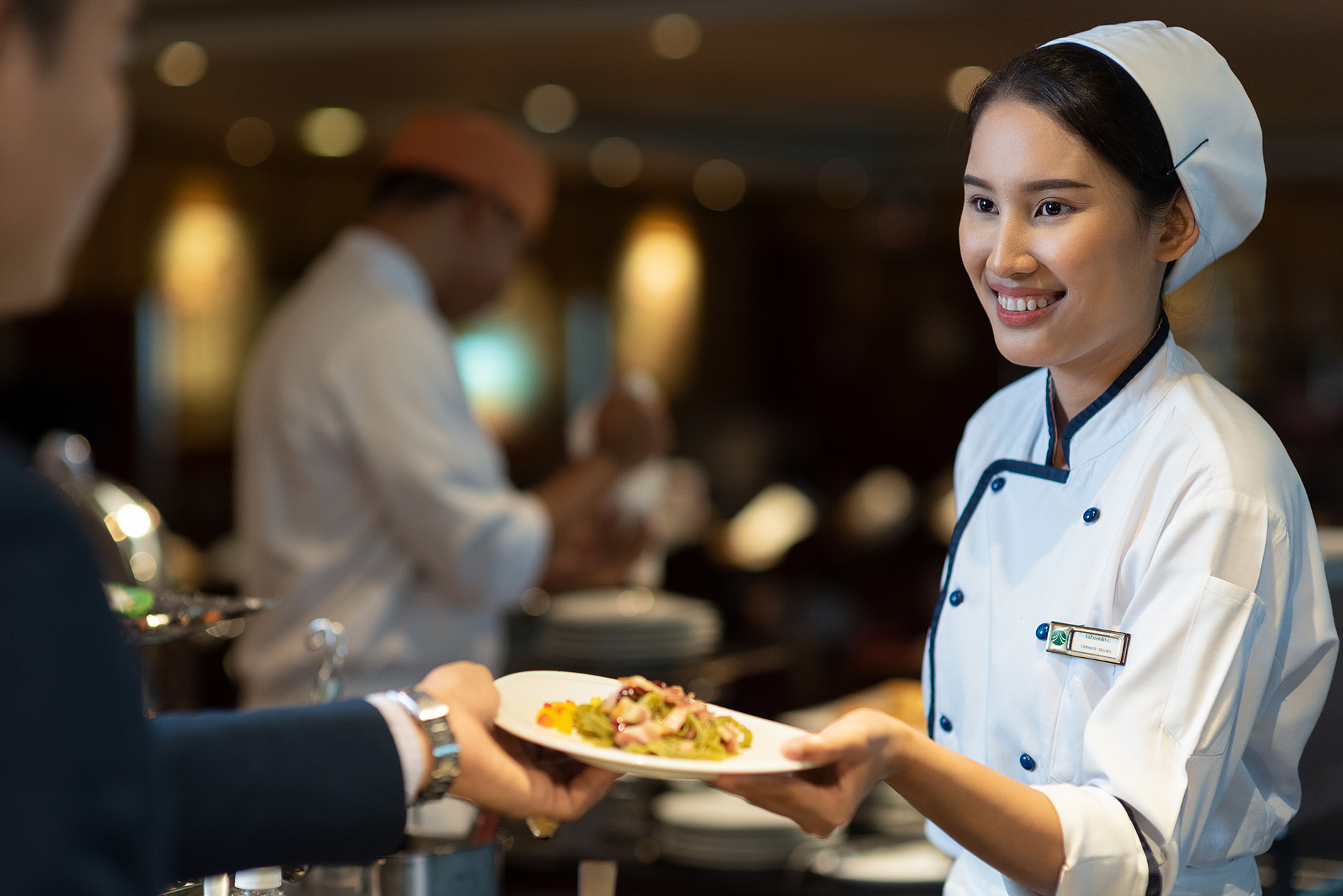 Details :
Opening hours
Lunch : 11.30 am – 2.30 pm
Dinner : 06.00 pm – 10.00 pm
Contact info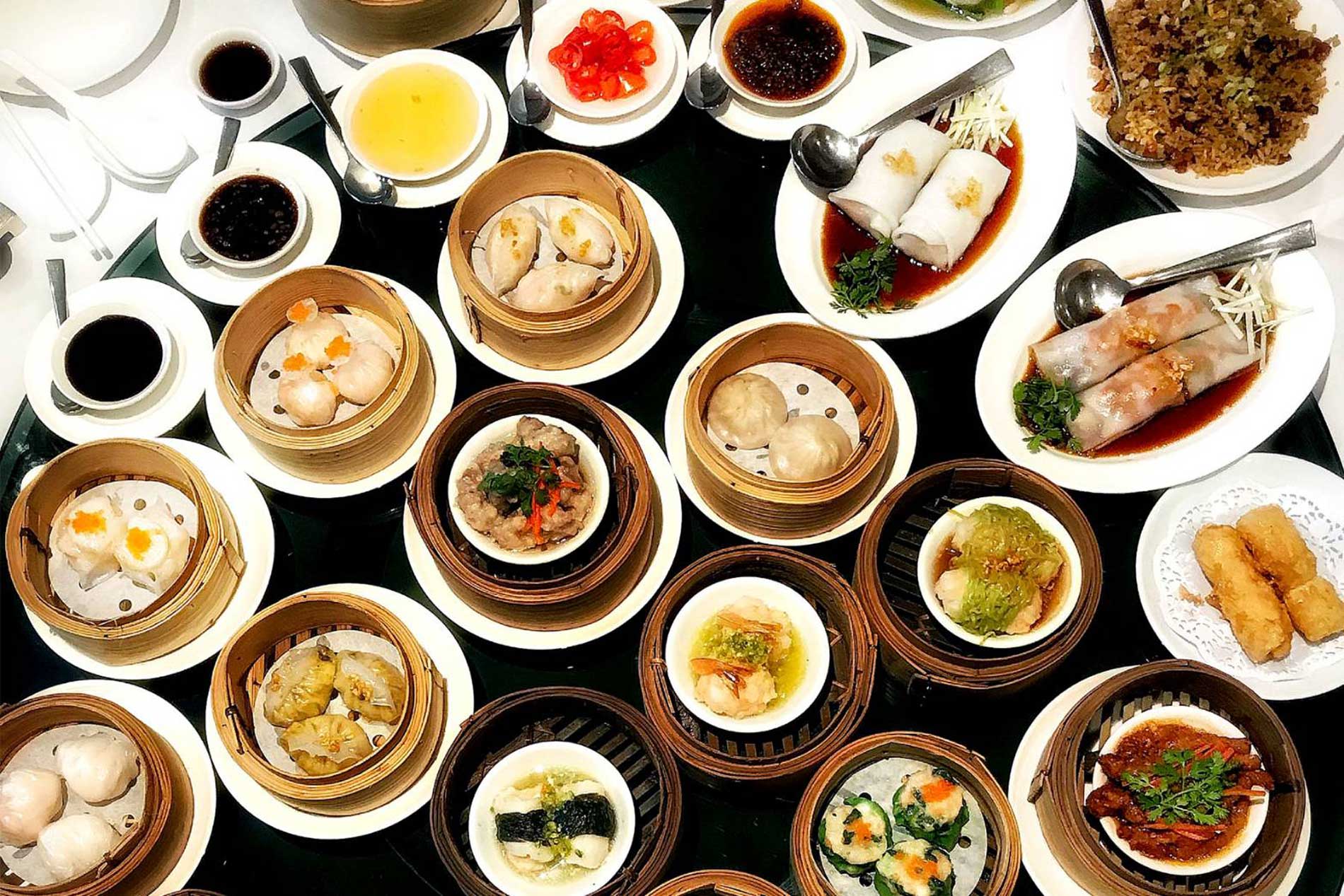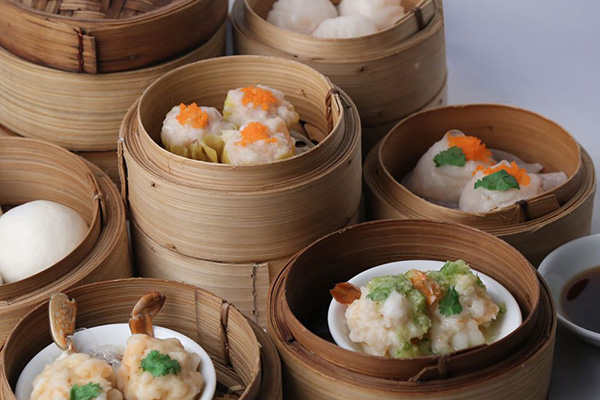 MENU HIGHLIGHTS :
Lunch : Dim Sum Buffet only 859 Baht net/person (Normal Price is 1,300 Baht net/person).
Lunch & Dinner : The Emerald Abalone Promotion only 350 Baht net and Peking Duck promotion only 999 Baht net (Normal price is 1,742 Baht net)
F & B Promotions :
01 - The Emerald Coffee Shop
Celebrate New Year 2023 for the month of January. The Emerald Coffee Shop proudly presents "Alaskan King Crab" your favorite seafood on ice menu "can be eaten as much as you can" serving with many kinds of international cuisine including premium sushi, seafood, desserts, ice cream, seasonal fresh fruit and soft drink, coffee or tea only 1,299 baht net/person (from 1,700 baht). For dinner buffet at 18.00 – 22.00 hrs.
ฉลองรับปีใหม่ตลอดเดือนมกราคม 2566 ดิเอมเมอรัลด์ ค็อฟฟี่ช็อพ จัดให้ตามคำเรียกร้องกับเมนูซีฟู้ดออนไอซ์ "ขาปูอลาสก้า" ทานได้ไม่อั้น บริการรวมในบุฟเฟต์นานาชาติมื้อเย็นที่มีซีฟู้ดและซูชิพรีเมียม รวมขนมหวาน ไอศกรีม ผลไม้ และ เครื่องดื่มน้ำอัดลม ชา-กาแฟ เพียงท่านละ 1,299 บาทถ้วน (จากปกติ 1,700 บาท) ระหว่างเวลา 18.00 – 22.00 น.
02 - International Buffet Lunch
International Buffet Lunch : serving daily with "all you can eat" variety of tasty dishes only 659 baht (from 900 baht) and also a la carte menu.
บุฟเฟต์นานาชาติมื้อกลางวัน เปิดบริการทุกวันด้วยอาหารจานเด่นหลากหลาย "ทานได้ไม่อั้น" เพียงท่านละ 659 บาท (จากปกติ 900 บาท) หรือเมนูตามสั่งให้เลือกตามใจชอบมากมาย
03 - Stewed Pork Leg Set
"Stewed Pork Leg Set" only 399 baht++/set with steamed rice and hot Chinese steamed buns (Mantou)
เซท "ข้าวขาหมูสูตรดิเอมเมอรัลด์" เพียงชุดละ 399 บาท++ เสิร์ฟพร้อมหมั่นโถวนึ่งร้อนๆ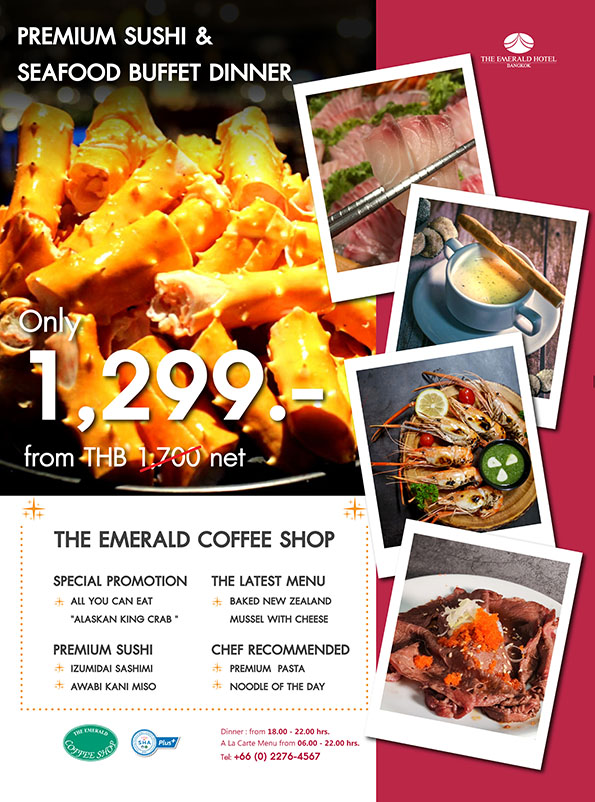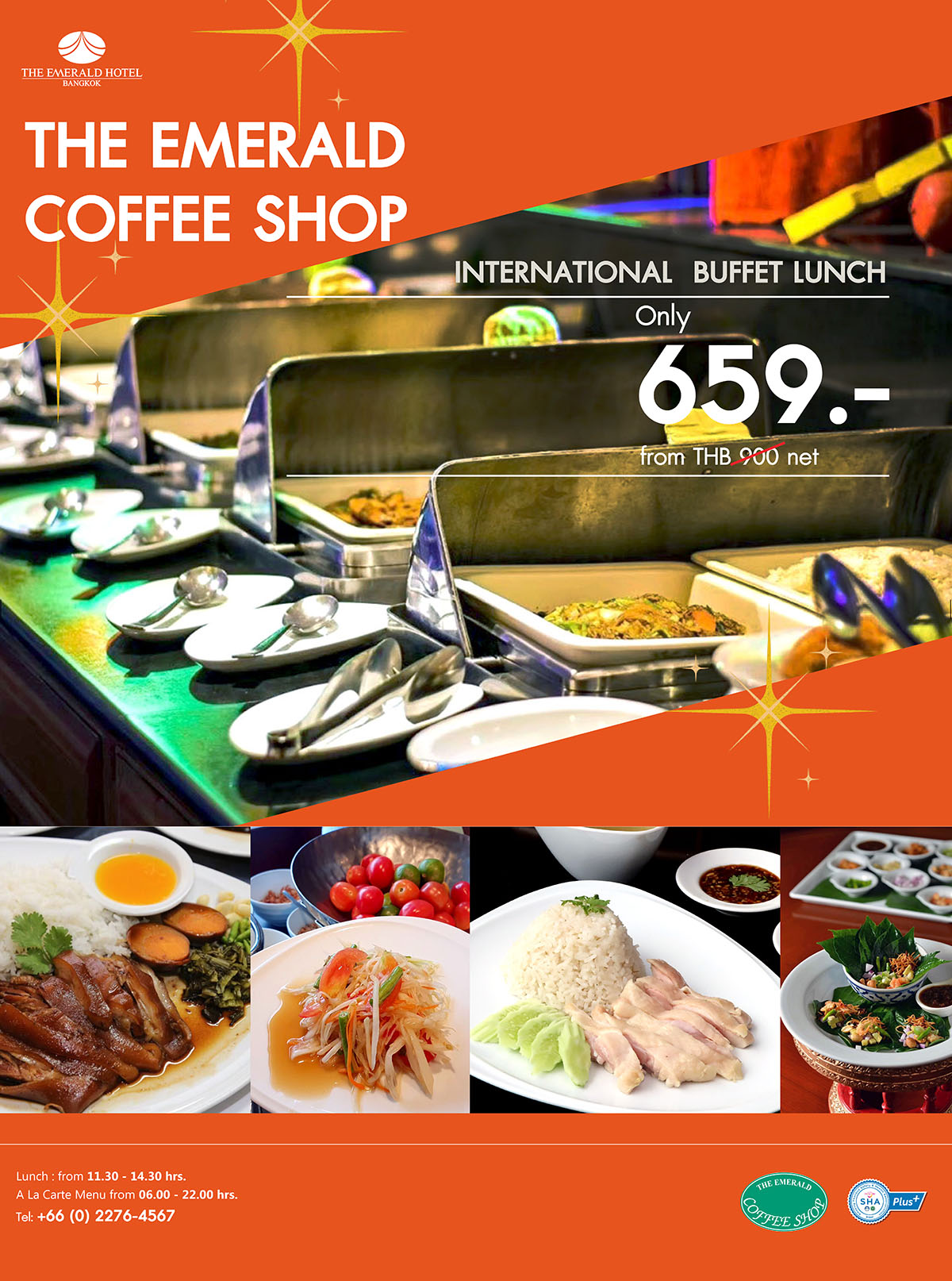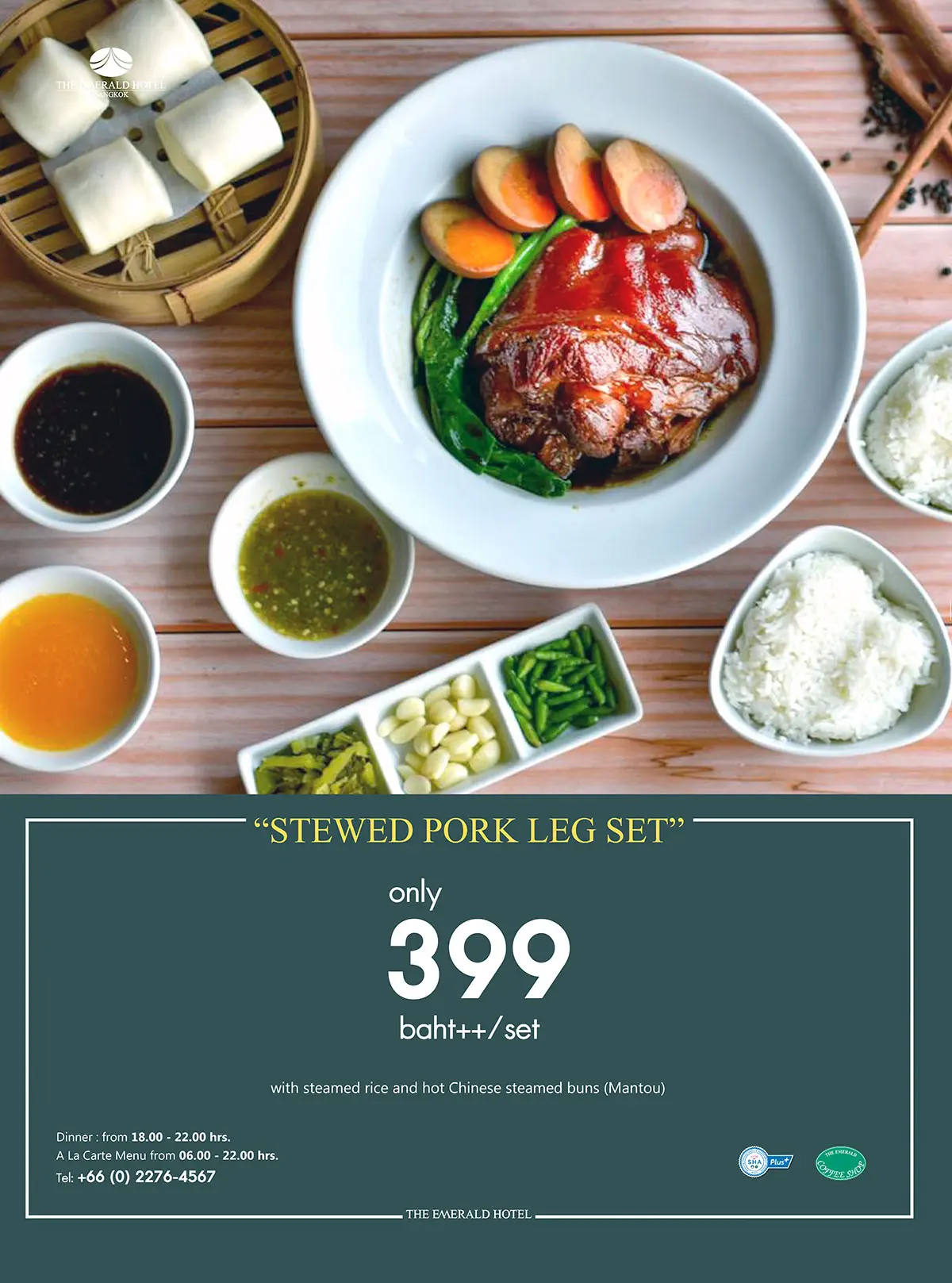 Dining Form